Dalian Dapinjia Group launches automotive LED headlamp driver overall solution based on Infineon technology and products
February 23, 2021
On February 23, 2016, Dalian United Holdings, a leading semiconductor component distributor dedicated to the Asia-Pacific market, announced that its products are based on Infineon's technology and products. solution. Dalian Dapinjia integrates Infineon's TLD5097EL and TLD5098EL automotive LED DC-DC driver chips, IPD25N06S4L-30 MOSFET, automotive grade 16-bit MCU SAK-XC2331D, and the overall solution for automotive LED headlight drivers launched today. SBC chip TLE9262.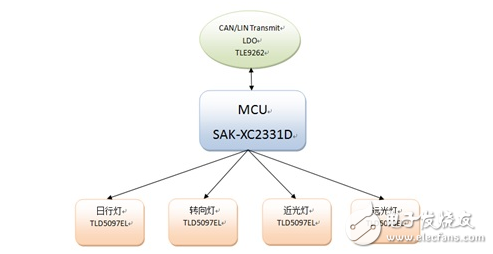 Figure 1 - Dalian Dapinjia launches the system framework diagram of the overall solution for automotive LED headlights based on Infineon technology and products.

At present, LED has achieved remarkable results in the application of interior lighting and brake lights, emergency lights, daytime running lights, etc. The proportion of LEDs in the interior and exterior lighting of the vehicle has exceeded 80%. With the rapid development of LED lighting technology and the gradual decline of cost, LED headlamps have been more and more widely used in mass production vehicle systems after years of technical verification and concept car display. For example: Audi R8 electronic system fully uses LED lights; Mercedes-Benz, BMW, Cadillac, Toyota and other companies have also introduced LED headlamps to replace traditional incandescent, HID lights. To this end, Da Lian Dapin Jiashi launched the overall solution of Infineon's automotive LED headlight driver.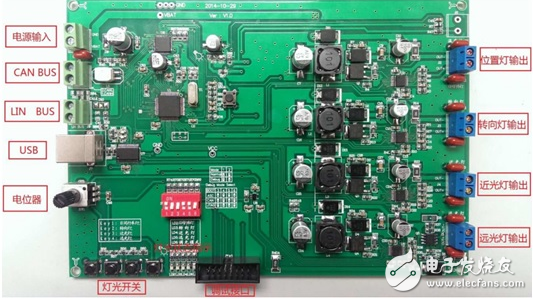 Figure 2 - Dalian Dapinjia launches photo of automotive LED headlight driver overall solution development board based on Infineon technology and products

This solution is based on Infineon's dedicated automotive LED lighting control chip TLD5098EL and TLD5097EL. The MCU is based on Infineon's high-performance automotive 16-bit microcontroller SAK-XC2331D, which can also realize CAN, LIN and USB communication. Function, can realize light switch control, light status indication and parameter indication through professional software on the PC side; Head Lamp Board has daytime running lights, turn signals, low beam lights and high beam output functions, and has input overvoltage and undervoltage protection. Daytime running light output open circuit and short circuit, turn signal output open circuit and short circuit, low beam output open circuit and short circuit, high beam output open circuit and short circuit and over current protection functions.

About Dalian United Holdings:

Datongda Holdings is the world's number one semiconductor component distributor with leading market share in the Asia Pacific region. Headquartered in Taipei (TSE:3702), it owns nearly 6,000 employees including Shiping, Pinjia, Zhiding and Youshang. People, more than 250 agent products suppliers, more than 120 distribution bases around the world (about 70 in the Asia-Pacific region), turnover in 2014 reached 14.9 billion US dollars (self-contained). (*Market rankings are published by Gartner)

Dalian United Holdings holds an industry holding platform, continuously optimizes the front-end marketing and logistics support team, acts as a professional partner in the industrial supply chain, provides Demand CreaTIon, turnkey solutions (Turnkey SoluTIon), technical support, warehousing logistics and IC Value-added services such as e-commerce meet the needs of different customers such as original equipment manufacturers (OEMs), original design manufacturers (ODMs), electronic manufacturing service providers (EMS), and small and medium-sized enterprises. The scale of international operations and localized sales channels have long been deeply rooted in the Asia-Pacific market. It has been selected as the "Best IC Distributor in Asia" by professional media.

In order to improve the quality of localization services of the United Nations General Assembly and meet the differentiated needs of customers in the service areas of Greater China, the six major areas of the United Nations (China) services include China-Based Manufacturers and Taiwan-Based Manufacturers. ), Foreign Manufacturing Service, Japan-Based Manufacturers, Korea-Based Manufacturers and Hong Kong-Based Manufacturers customers. In addition to providing customers with the best turnkey solution (Turnkey SoluTIon), and in order to meet the customer's small-volume device procurement needs, the company has set up a dedicated small batch service team (SQS, Small QuanTIty Service). The United Nations has established the United Nations General University of Commerce and Trade in the Mainland and Hong Kong, the United Nations General Trading (Shenzhen) and the United Nations Electronic (Hong Kong), with the "Industry's Choice. Passage Benchmark" as the corporate vision and the full implementation of "Team, Integrity, The core values ​​of professionalism and efficiency are professional services to achieve mutual benefit and win-win for suppliers, customers and shareholders.

Modern embedded ceiling fans of LEDER technology are equipped with low-noise wind motors, which can keep you and your family away from any noise interference, create a comfortable and quiet living environment, improve sleep quality, LED lights are energy-saving and environmentally friendly, low power consumption, and can save large electricity bills. The high transmittance lampshade with a bamboo tube-shaped light hole, when you turn on the light, you will feel yourself in nature. Beautiful and durable, transparent abs fan blades, very good and very practical.

The Ceiling Fan adds rustic charm and a cooling breeze to any room. The fan is designed to push air down into the room, where you live. The included led bulbs are long-lasting, deliver plenty of light using the included remote control. Multifunctional modern ceiling fan with light, Inserted with high-quiet copper motor, brings your comfortable living and sleeping experience. 3 speeds (Low-Mid-High), 3 color changes (White-Warm-Yellow), all these functions can be easily controlled by remote.

Features:

• Beautiful and durable

• Not suitable for outdoor use

• Reasonably price

• Energy saving

• Contracted design

• Color temperature :3000k-6000K

• Wind adjustable

• Type of protection: IP20

• Warranty for bulbs :2 years

The modern and simple style ceiling fan with light is perfect for Indoor Lighting, bedroom, dining room and so on, but we do not recommend for outdoor use.

We have rich production experience in lighting.Except ceiling fan , we also offered other product in indoor lighting .Such as :

LED Panel Light , Track Light , Linear Light ,Wall Light , LED Strip Light , LED Tube Light , Cabinet Light , LED Bulb , LED Ceiling Light as so on .

Ceiling Fan

Smart Ceiling Fan,Cheap Ceiling Fans,Large Ceiling Fans,Black Ceiling Fan

JIANGMEN LEDERLIGHT LIGHTING Co.,LTD , https://www.wallwasherlights.com