"2015 high-tech LED supply chain good product tour" into the sun lighting
November 18, 2020
[Text|High-tech LED reporter Yue Mengdi] "High-tech LED supply chain good product tour" the second wave of spring offensive. On April 21st, a high-tech LED good product delegation led by Gaogong LED entered Zhejiang Sunshine Lighting (600261).

"Leading well-known domestic accessories companies and suppliers, visiting the top ten cities in the country for excellent lighting enterprises" is the highlight of this spring offensive. Sunlight lighting listed on the Shanghai Stock Exchange is naturally a member of this visit.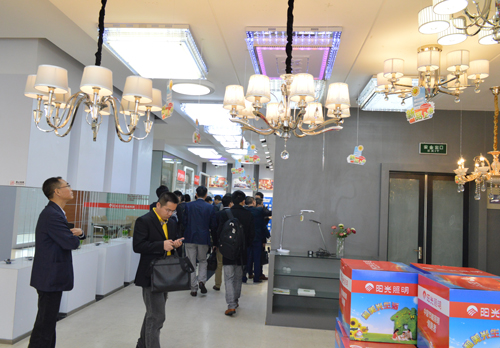 Visit the exhibition hall

In 2014, Sunshine Lighting achieved a total operating income of 3.25 billion yuan and a net profit of 288 million yuan, of which LED lighting products realized revenue of 1.624 billion yuan, a year-on-year increase of 65.15%, and the proportion of revenue of the entire company rose from 31% in the previous year. 50%. It is a leading lighting company in Zhejiang.

Participating in the Hangzhou station tour including Mingwei Electronics, Hongli Optoelectronics, Smect Electronics, Guangdong Kegu Power, Hyun Shuo Optoelectronics, Rare Earth, Saudi Basic, Ningbo Yuantai and other supply chain companies, in Sunshine Lighting China Under the leadership of Chen Yiping, the general manager of the business department, he visited the Sunshine Lighting Headquarters in Shangyu.

Sunlight lighting started with traditional lighting. In the environment where LED lighting quickly replaced traditional lighting, it was not to be outdone. After the transformation of LEDs, another booming situation emerged. In the nearly 1000 square meters exhibition hall of Sunshine Lighting Headquarters, LED display lights, LED outdoor lighting, LED commercial lighting, LED industrial and mining lighting, office engineering lighting, European lamps, crystal lamps and other display areas have been distributed, fully demonstrating the company's LED The degree of emphasis on lighting.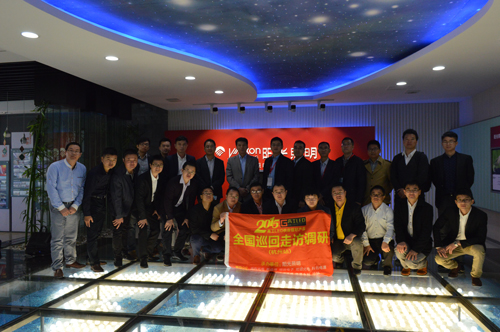 Taking a group photo

The testing equipment and automated production equipment used in the Sunlight Lighting Factory also made the visitors shine.

It is understood that Sunshine Lighting plans to achieve revenue of 4 billion yuan in 2015, a year-on-year increase of 23%, most of which will be contributed by LED lighting. As a result, the overall supply chain for LEDs will be more demanding. On behalf of Sunlight, Chen Yiping expressed his welcome to the arrival of high-tech LED and supply chain enterprises. Sunlight also hopes to optimize in the supply chain to further enhance its market competitiveness.

Led Underground Lamp is a new type of buried decoration lamp with high brightness LED as the light source and LED constant current drive as the driving mode.Widely used in square, park, leisure places, such as outdoor lighting, outdoor as well as park, square, garden greening, lawn, flower beds, pedestrian street, waterfalls, fountains, water etc illumination, add luster for life.



Product size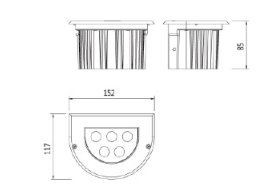 Technical parameters
Main material

High - pressure cast aluminum, 92% high - light steel screen printing glass

The light colored temperature

Red/Green/Yellow/Amber/Vermilion/Acid blue/3000K/4000K/5000K/6000K

Surface treatment

UV Polyester powder coating

Light distribution device

Reflector lamp cup series:6°

Optical lens series:8°/15°/25°/45°/10×30°/10×60°/20×40°

The light body color

Dark grey

Working voltage

DC24V

Safeguard procedures

Silica gel ring compacted waterproof

way to install

Embedded part

Average lifetime

350mA20000hours,500mA15000hours

rated power

/

Control mode

/

Level of protection

IP65

operating ambient temperature

-25℃~50℃

Working environment humidity

10%~90%












Led Underground Lamp ,Led Underground Headlamp,Led Cap Lamp Underground Mining,Underground Led Cap Lamps

Jiangsu chengxu Electric Group Co., Ltd , https://www.chengxulighting.com